Earlier this year, I read a lot of hype about new jewelry label Dorsey, a brand known for its lab-grown diamond necklaces and most notably their "Kate" riviere tennis necklace style, which has been a bestseller since the brand's launch. The team at Dorsey reached out and generously offered to send me a few styles and I couldn't wait to test them out. I promise you, these necklaces stand up to the hype. They are incredible, heirloom-style pieces that are indistinguishable from true diamond pieces that would cost thousands (sometimes tens of thousands) of dollars more.
Dorsey Kate Riviere Necklace.
The Dorsey Kate style is iconic. I selected the shorter 15″ length, and when I first wore it to my birthday dinner, my mother did a triple-take: "Did you get something new?!" she asked, her mouth agape, gesturing to my necklace. She thought I was wearing diamonds — this, coming from a woman with a considerable fine jewelry collection and discerning eye. She couldn't believe when I told her they were lab-grown sapphires, and that the necklace cost under $400! The two questions I field most frequently when I wear the Kate: 1) does it flip around? and 2) do they look "real"? On the first matter, I never have an issue with the stones flipping around while I'm wearing them. It does take a minute to figure out how to put the necklace on so that the stones are facing up / in the right direction, but once you have the hang of it, I've literally never looked down and seen my stones facing the wrong way. On the second point, yes, they look real. They are visually indistinguishable from true diamonds. They are, after all, real gem-stones! Just lab-grown white sapphires. They are sparkly and glittery. I've had many people ask after them!
I've tested styling this necklace up and down and tend to prefer to wear it styled "up" with cocktail dresses and the like — especially when I have bare shoulders, so it really shines and does not interfere with necklines! — but have seen many chic peas style this with t-shirts and jeans to great (ultra-fashionable) effect. I will say I found it easier than expected to style with other metals and gems — I often wear with gold and/or pearls, and it always looks "right."
Dorsey Clemence Necklace.
This may be a surprising opinion, but the Clemence necklace is my favorite Dorsey piece I own, and the one I'd recommended purchasing if you are only buying one. I find it much easier to style on a daily basis than the chunkier/more dramatic Kate — just a matter of personal style preference, but I think the daintier Clemence is easier to layer with other lightweight gold pieces, and also love the look dressed up, on its own. It feels delicate and sweet, and it hits the perfect part of the neck/collarbone. I took it in the 16″ length. In general, I think taking the shortest length available in the Dorsey styles is advisable; I feel like the shorter lengths feel more modern. The only downside I can think of when it comes to the Clemence is that the clasp has a really small, tight opening that is difficult to maneuver if you're alone. I've done it (many times) but it is slightly irritating, so I often just leave my Clemence on and swap out the other jewelry stack pieces!
I think the Clemence would make a spectacular gift for a bride on her wedding day, and the Clemence bracelet would be such a sweet gift for a bridesmaid! I'm eyeing the bracelet myself. Would be a lovely addition to my daily wrist candy.
Dorsey SmallHeart ID Necklace.
I absolutely adore and treasure this engravable tiny heart pendant. It's more substantial (in width) than it appears on the site, and has a kind of alluring weight to it that makes it feel different than most of my other delicate jewelry. I frequently layer this with my Clemence and/or my Jane Win Petite Hearts necklace and will not remove the stack for days on end. I even sleep in these pieces! They are lightweight and comfortable. They also have a larger heart necklace that I'm eyeing (would make such a chic stack with the smaller one) and a bracelet version that would be a lovely push present / milestone present.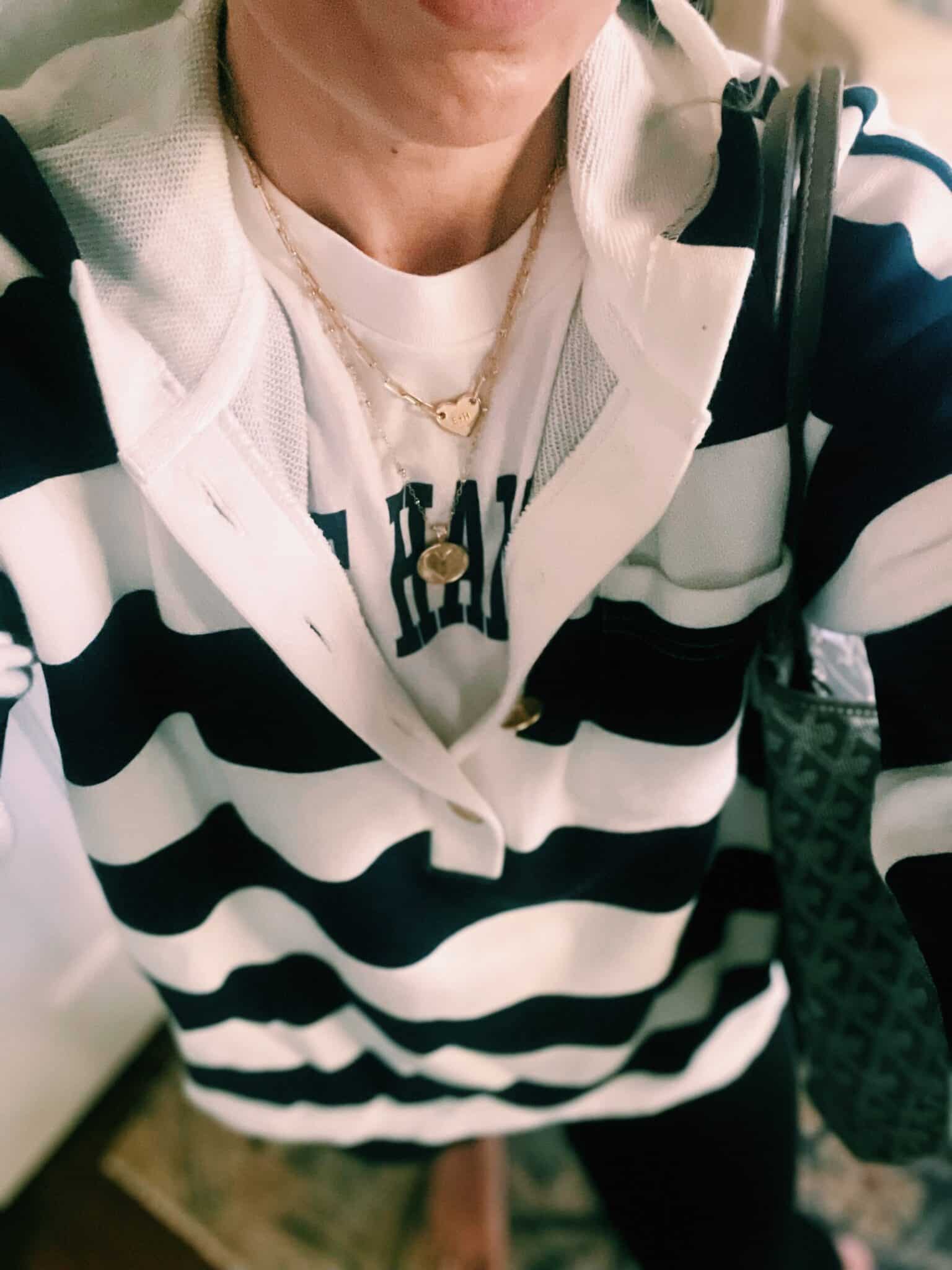 Dorsey Pieces on My Wishlist.
I'd love one of these simple but elegant single-stone bracelets, one of their new cocktail rings, or a pair of their sapphire earrings. All of these would make spectacular gifts.
P.S. A detailed review of the best fitness dress on the planet, and all my favorite Amazon finds.
P.P.S. On maintaining wonder as a parent.
P.P.P.S. On falling in love with my husband.