*Image above via interior designer Diff Miller.
Even if Scalamandre wallpaper (seen above, swoon) is out of the question for you, a couple of chic upgrades to your bathroom to consider…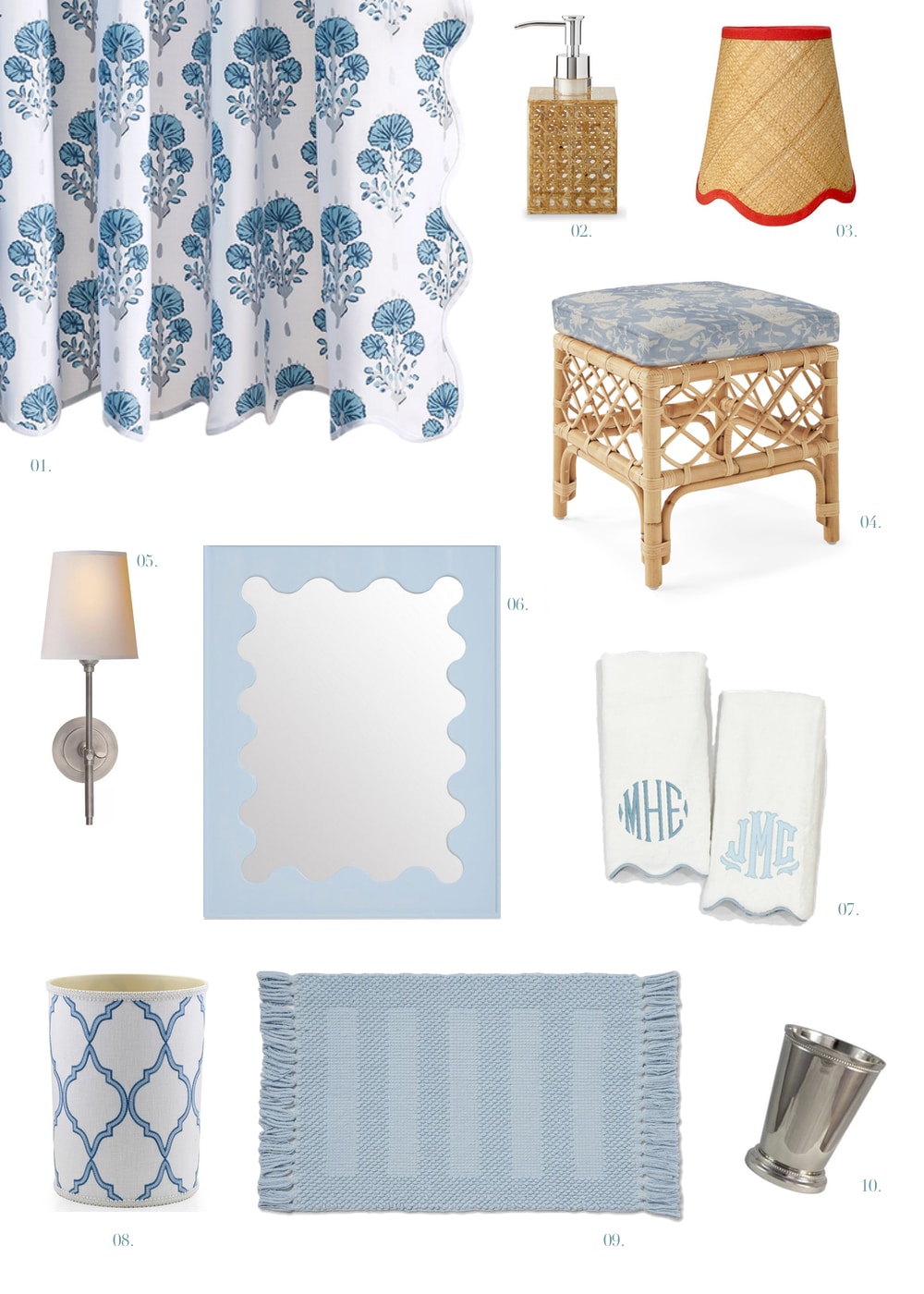 01. // 02. // 03. // 04. // 05. // 06. // 07. // 08. // 09. // 10.
+Sconce Shades: I love the way Diff Miller added texture to the room above with chic scalloped rattan sconce shades. If you're looking for sconces similar to the ones she's used above, try these. More sconce options in this post.
+Mirrors: If you like the look above, check out this S&L, this pre-loved Bungalow 5 statement, and this pagoda style. The white trim just looks so fantastic against a bold wallpaper. I also recently came across this mirror and haven't stopped thinking about it. The blue would be such a statement! More great statement mirrors here.
+Wastebaskets: love this cane embossed one from Kassatex, this woven S&L (look for less with this), this scalloped wooden style, Scully and Scully always has such fun patterned ones (trellis! palm leaf!), and this seagrass-style one from Target for $20.
+Bathroom Accessories: love the rest of the cane embossed series from Kassatex, Monique's marble collection, these simple glass canisters for cotton and swabs, the blue and white ceramic collection from WS, Jonathan Adler's lacquer series, this $10 plaid soap dispenser, this hand-painted one from Bows and Blue, this rattan pump, and this less expensive rattan style. Julep cups are also great for toothbrushes!
+Bath Mats: I've done an entire post on chic styles to consider, but my top picks are this Matouk for a splurge and this Target for a steal (looks like a style from S&L that is like six times as expensive).
+Towels: Matouk Auberge. I have given these as housewarming gifts to countless friends, and we own several sets. I have also given a few sets from Boll & Branch but never tried myself. I also like the look of these from Hill House, which can be personalized in attractive fonts.
+Hand Towels: Nothing wrong with going with stark white towels and then having a couple of fun hand towels to introduce color/drama. I've purchased some applique monogram hand towels from Blue Bamboo in the past, and the owner was such a joy to work with. She really went above and beyond to help color-match. She is taking a short break at the moment, but you can sign up to be alerted when she returns! I also adore these scalloped styles from Lettrefina.
+Bathroom Furniture: Depending on your needs and the size of your bathroom, a couple of great pieces…
LOVE THE LOOK OF THIS NICKEL AND GLASS ETAGERE
THIS LADDER STORAGE WITH BASKETS IS CLEVER AND APPEALING
TEAK BENCH – WORKS IN SHOWER OR OUT AND MAKES ME FEEL LIKE I'M AT A SPA
MODERN-LOOKING, FREE-STANDING WHITE CABINET — DISCREET, NARROW, PERFECT FOR SMALL SPACE
GREAT VANITY BENCH — OR DECOR FOR AN AWKWARD SPACE
IN ONE OF OUR BATHROOMS IN OUR FIRST APARTMENT, THERE WAS NO TOWEL RACK! WE BOUGHT A FREE-STANDING RACK SIMILAR TO THIS
+Bathroom Organization: I love the look of these hyacinth baskets or these rattan-and-lacquer ones in a bathroom if they will be out on display. For under-sink, this organizer is genius, and I use these inexpensive white bins in our bathrooms and utility spaces. These are fantastic for lining the shelves of a medicine cabinet, to keep items together and tidy. And this is a clever tiered shelf for perfumes/cosmetics you prefer to keep out. Finally, I use these acrylic cubes for cosmetics and also organizing medicines and oral care in our linen closet (each drawer labeled, like the true nut job I am).
+Shower Curtains:
I STILL AM NOT OVER THE HYGGE & WEST TOILE I BOUGHT FOR MICRO'S BATHROOM
THIS DRAMATIC MATOUK IS GORGEOUS
THIS $20 GINGHAM IS TOO GOOD FOR A LITTLE BOY'S BATHROOM
SIMPLE BANDED STYLE — ALSO LIKE THE LOOK OF THIS (EUROPEAN HOTEL VIBES)
+Countertop Mirror: Is it weird I have wanted one of these Simple Human magnifying mirrors forever? I also like the simple design of this Yamazaki style.
+Artwork: Obviously so dependent on colors in the room, personal preference, etc., but I just discovered a new resource, Artfully Walls, which has interesting prints and offers framing. (For some reason the prospect of buying art and then taking it to be framed has always felt so irritating and drawn-out to me.). Anyhow, they even have invited renowned interior designers like Mark D. Sikes to curate selections. These blue stripes stood out to me!
P.S. Luxuries for even the smallest home.
P.P.S. All my favorite hand soaps. I'm actually living on the edge right now and testing a new Molton Brown hand soap scent — Orange and Bergamot. All of their scents are just exquisite, and I personally prefer the formula of their soap to all others. It's not as oily/unctuous as some of the other high end brands. It has a great hand feel.
P.P.P.S. LWDs.