Earlier this year, Mr. Magpie announced plans to travel to Napa for business and invited me to join him at the tail end to extend the visit into a vacation. I immediately set to work researching Napa Valley, leaning on the advice of a few friends who'd lived in the Bay Area alongside a Magpie reader poll (thank you to all who responded!) and meandering Reddit dives. (How else do you find hyper-local, detailed information on restaurants, destinations, etc? I'd love your thoughts. Reddit is fantastic, but slow-going: you must filter through a lot of dubious suggestions, using intricate sleuthwork to suss out the credentials and tastes of each contributor before determining whether to take their opinions on board. Even then, I like to see some pattern formation, e.g. this Redditor who seems to know what she is talking about echoed the same thing this Redditor, who also seems to know what she is talking about, said. Reddit is a powerful tool but, much like Yelp, requires thorough critical analysis and data scrubbing.)
There were two themes that emerged from this research: 1) the towns are not as close together as they look on a map — do not expect to zip from Calistoga to Yountville and back multiple times in a day or even week unless you want to spend a lot of time in the car, and 2) the further north you go, the less trafficked and touristy things tend* to become. (*I am speaking in generalities as a tourist myself — I am confident there are natives who have tons of fabulous, off-the-beaten path recs all up and down the valley.) We took this intel on board and chose to stay in Calistoga, the town furthest north in Napa Valley, and to more or less restrict our itinerary to its environs. The strategy paid off beautifully and yielded a deeply restful, scenic, and quiet trip.
As a preamble to all of my notes below, I was astounded by Calistoga's topography and botany. We could not stop talking about the environment, which felt painted-on, stretched across canvas, almost set-like. The textural diversity of the brush, trees, plants against the expansive blue skies and the shock of peaks in the near distance was — soul-stirring? Every time I looked on the landscape, I felt a twang too abstruse to fit into words. Truly one of my favorite visual experiences in recent memory.
Where to Stay in Calistoga, CA.
We stayed at Indian Springs Resort and Spa, and I can't recommend it more. It has a boutique feel, with thoughtful decor (their interior designer did an especially creative job selecting the lighting fixtures — there is nothing "builder-grade" about the rooms) and meaningful perks, like a complimentary welcome drink at Palmeraie, the charming Airstream-come-coffee-and-cocktail bar that is "parked" at the front entrance of the resort, a small fridge in-room to stow wine you might have purchased while visiting local vineyards, complimentary in-room snacks, and refillable water bottles (along with lots of water stations across the property). Everything about Indian Springs reminded me to slow down. Even the speed signs around the property have messages like "Breathe" and "What's the rush?" imprinted on them. To me, though, the real selling points of the property were its spa and location on Lincoln Ave, the main drag that runs through the quaint, hippie-cool town of Calistoga.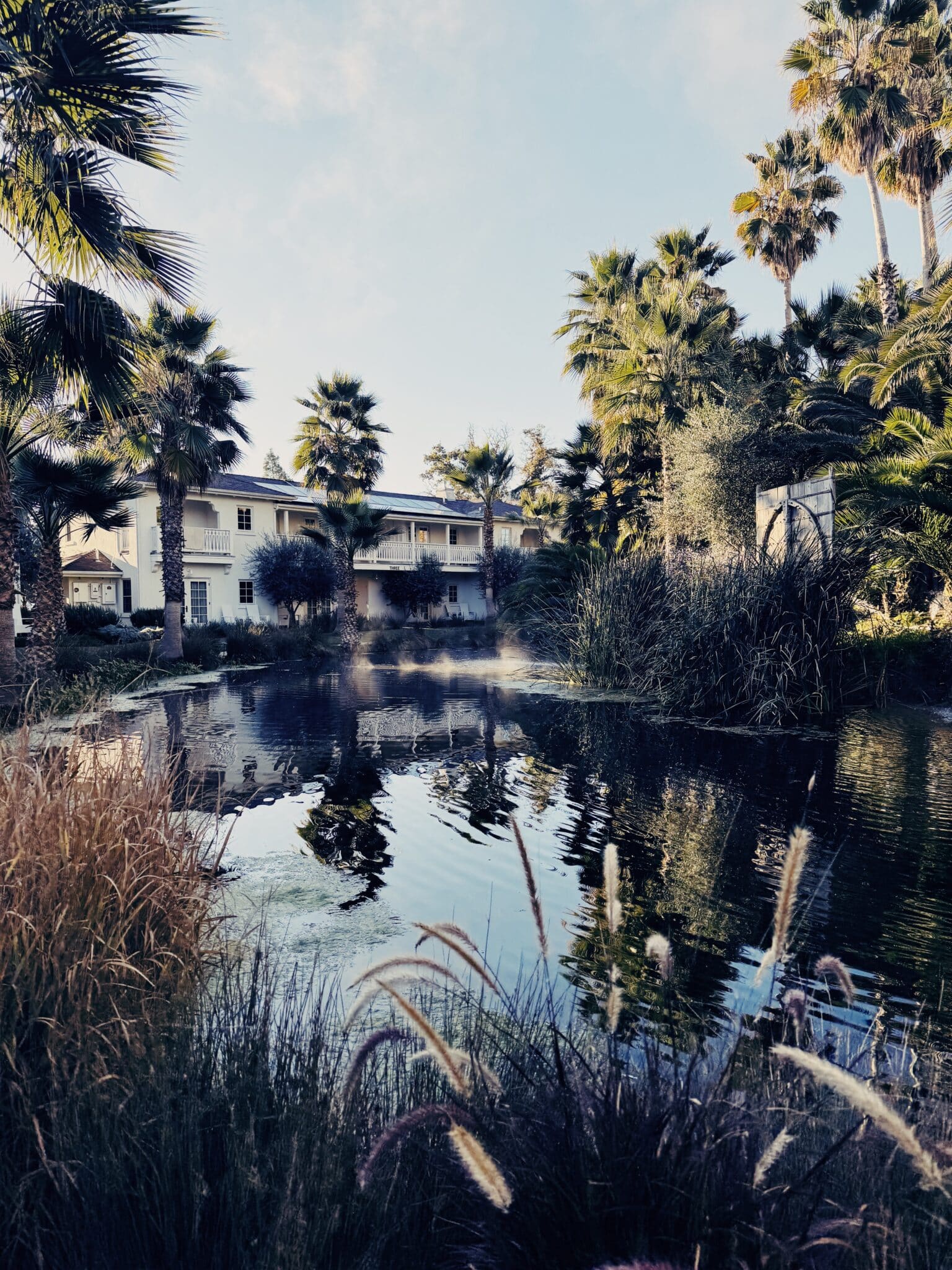 ABOVE: VIEW OF OUR HOTEL ROOM FROM THE POND // ARRIVAL DRINKS AT PALMERAIE // VIEW FROM OUR BALCONY
Our spa experience was near-spiritual. Calistoga is known for its mineral springs and mud baths, and in retrospect, I wish I'd sprung for the mud bath. I chickened out, though, slightly put off by the idea of sitting in a room with other women while an attendant slathered mud all over us. Instead, I opted for their classic mineral bath, and the experience was surreal and anointing. I began by sitting outside in a little courtyard, shivering in my robe in the 50 degree morning chill. An attendant brought me back to a row of three ancient-looking tubs filled with steaming mineral water that faced a wall with slatted windows letting the sunshine in and the mist out. I laid in the hot tub for 15 minutes, and everything about the soak seemed to heighten my senses while dulling the normal riotous rush of thoughts in my mind. It was as though I was drawn outside of my body, aware principally of the slight weight of the mineral water on my skin, the steam in my face, the cold air in my nose. The attendant then deposited me in a sauna for 8 minutes, and where have saunas been all my life?! I loved the dry heat, especially after the tub immersion. Finally, I was "put down for a nap" (!) in a dark room, cocooned in blankets and an eye mask. This sensory progression made me feel the full 2,798 miles between myself and my home, in the best way possible: I was detached, blissed out, on another plane. After, I enjoyed an hour long massage on a heated table, during which I realized how badly my feet needed to be touched. As a runner, I will occasionally treat and stretch my legs, but I never think about my feet. It was divine. Finally, I joined a serene and sleepy-eyed Mr. Magpie, who had just experienced the same progression of treatments himself (FYI: the mineral/mud baths are gender-separated), and we sat in a happy emptiness around the Buddha Pond behind the spa. I cannot recommend this protocol more if you need to unhook yourself from any kind of stress or dysregulation.
As for the hotel's location: we found it was pleasant to be situated "in town," on the main Lincoln Ave drag, because we could pop out to the grocery two blocks away (Cal Mart, where, the first night we got in, we procured a bottle of decent wine to enjoy in our room); dine; and go wine-tasting. Some of our favorite tasting experiences of the entire trip were not at vineyards but at two of the tasting rooms walkable from the hotel! It's also charming to stroll up and down the strip with coffee in hand, pausing to peek in the boutique windows and walking the quirky "stone maze," which is oddly situated on the side of the main through-fare with minimal context. Art in place. Fellow city-dwellers or anyone who tends to move through life at a quick clip would do well to walk the maze. It is agonizing at first. You know how quickly you could get to the center by walking a direct line via the radius, but instead, you must traipse in concentric circles. (Mr. Magpie told me to slow down multiple times!). And there is something cacophonous about completing this ultimately pointless exercise while traffic bounces by on Lincoln Ave. "Oh, hi, just me, over here, being art, while the world keeps turning!" I loved the cognitive dissonance: me on my deliberate and art-for-art's-sake spiral, while there are people rushing to work or wherever they need to be. Also strangely alluring that it is deposited, without gallery notes or much instruction, in a vacant lot between elegant Indian Springs and a dry cleaner, with the swell of Napa area peaks around you. The stone maze might well be the perfect mascot for the entire trip: slow down, lean into art in its many forms (including wine!), focus on your senses.
Indian Springs had been recommended by all three of my sources: Magpie readers (I discovered after we returned that it is owned by the family of a Magpie reader!), a local friend, and Reddit. It was also considerably less expensive than the neighboring Auberge property, Solage, which we also considered. Solage seems to offer a slightly more luxurious/high-end experience (with price tag to match), but I will say we loved the Boho-boutique feel of Indian Springs and its proximity to town so much that we already discussed returning and electing to stay at Indian Springs again. That said, Solage is not far away by any means, but it is over on Silverado Trail, which is one of the major roads up and down valley — probably a 15 minute walk from "the main drag." We did visit and eat at Solage, twice! I can't believe I'm saying this (I'm sure foodies will thumb their noses), but we found the food at their hotel the best we ate on the entire trip. At the same time, I'll admit that I'm not confident I did the best job curating our dining itinerary. To be clear: we ate very well, and everything was delicious, but because we were in the land of Thomas Keller, I wouldn't say our dining program blew my mind. More on meals below.
Returning to lodging: the two other accommodations I want to mention are Meadowood and Embrace Calistoga. I'd been very drawn to Meadowood in my research — it's a beautiful club and property, and the accommodations look spectacular, but it's in St. Helena, one town over, and was booked for the dates we were considering. I know nothing about Embrace (hadn't heard of it in my research) but will say that it looked charming and had no vacancy while we walked by, which is usually a good sign. It's RIGHT in the middle of "the downtown area." Wanted to pay that pedestrian intel forward if you're a B&B type.
What to Drink in Calistoga, CA.
Now, onto wine. We did five tastings in the Calistoga area and thoroughly enjoyed four of them. I don't have the heart to share the name of the fifth (a small, family-owned set-up), but if you're traveling there and want to run your itinerary by me, please feel free to email.
ABOVE: VENGE VINEYARDS AND THE BARRELS AT ARROYO VINEYARDS
+Picayune Cellars. I CAN ONLY SPEAK IN EXCLAMATION POINTS ABOUT PICAYUNE. Picayune is a female-founded wine producer that follows "the French Negociant model" (buying small lots from local vineyards and producing their own wine). The French founder, Claire, whom I met at Picayune's charming tasting room and boutique (which carries an eclectic and interesting assortment of wares, from vintage Hermes scarves to French cutlery), brings a sense of panache and light-heartedness to an area that can be deadly serious about its wine. That said, her wine is still elegant as can be. While we were tasting her wines, she offered to "open something special for us," which we happily obliged. She uncorked their "Starry Night" red, which I don't believe you can buy online, and which we eagerly added to our order (you could try calling?). Claire's focus is making reasonably-priced wines in the California tradition, but these are not, at least for us, "everyday sippers." We'll be keeping ours for special occasions. Their tasting room is right on Lincoln Ave. In case you want to order online: We liked their Rive Droite and Padlock blends.
+Venge Vineyards. (Pronounced ven-ghee.) The most iconic of our Napa wine tastings — beautiful venue looking out over the vineyard. We loved the staff (hi, Ruth!), who were knowledgeable and eager to answer questions about all things wine-related. If you're looking for that classic, big Napa cabernet sauvignon, you'll do well here. In case you want to order online: We liked their Bone Ash and Igneous Cabs.
+Tank Garage Winery. Fun, wild, funky, experimental — the opposite of Venge! — this tasting room is in an old mechanic's garage, and highly style-conscious. Some of the wines were out there, but others were fantastic. We had a fun time here. Staff are smart, quirky, well-informed. In case you want to order online: We loved their Hippy Sippy, Pét-Nat Sparkling Chardonnay and Don't Forget Me red blend.
+Vincent Arroyo Winery. This rustic, small vineyard has a no-frills tasting area (think: a small tin of Carr's crackers on a folding table, separated from the barrel room by plastic flap dividers) and a matter-of-fact owner, but we learned so much about the wine-making process and business at this under-the-radar destination. We were even present as they carted grapes in from the day's harvest — see below. We plucked a few to sample right off the cart — they are sweet! Mr. Magpie loved to learn that Arroyo dry farms. You can read about dry farming here, but the TL;DR is: "Dry farming is not a yield maximization strategy; rather it allows nature to dictate the true sustainability of agricultural production in a region." We learned that dry farming is required in most European wine-growing regions, but the majority of Napa vineyards are irrigated. Interesting context! In case you want to order online: We liked their Petite Syrah.
The other vineyards I'd wanted to visit: Schramsberg (make great sparkling wine, but we've already enjoyed it quite a bit, so we decided to prioritize others) and Schweiger Vineyards (recommended by someone whose wine taste I trust, but just couldn't fit everything in). It occurred to us while out there that another way to curate a vineyard-hopping programme would be to look at a restaurant you respect (say, French Laundry), and see which local wines they carry on their menu. We ran through this exercise on the return trip and added a few to our Google Maps for future trips back.
A few notes: the vineyards were buzzing with activity because we were there the week many of them were harvesting their grapes, but the tasting rooms weren't packed. You could easily walk in to Tank or Picayune without a reservation and without a problem. However, if you are visiting a vineyard, you should make a reservation online in advance. Many of them are only available by reservation, or will stay open to accommodate your scheduled visit. Most of the tasting rooms / vineyards charge a tasting fee, which they will also waive if you purchase a certain amount of wine. The pricing systems are very sneaky — you pay a premium shipping for fewer than three bottles, which incentivizes you to buy four, at which point, you might as well buy six because it's a flat fee for 4-6 bottles, and they'll comp your tasting fee if you buy six. Ahh! It's a big "get." We spent a small fortune on wine that we had shipped home, but we also anticipated that. We were there to drink wine! And we will treasure these bottles on special occasions to come. Final note: a standard tasting will take about 90 minutes (helpful when scheduling an itinerary) and you probably drink about 1.5 glasses of wine overall if you drink everything you are poured (usually, you try five or six wines, and some of them will pour more at your request). I would personally not do more than two tastings a day. It's too much to absorb! At some point, everything just tastes like jammy, herbal cabernet sauvignon.
What to Eat in Calistoga, CA.
On food: we ate at…
SOLBAR AT SOLAGE RESORT — THE ROSEMARY AROUND CALISTOGA IS SPECTACULAR AND ABUNDANT
+Sam's Social Club. This is on the Indian Springs property — if you stay there, highly recommend a reservation there the first night so you can just hunker down and relax at the resort without having to drive anywhere. It's exactly what you'd think an upscale California eatery would be. New American with thoughtful cocktails, local ingredients, and a to-die-for burger. I really needed that burger after the long trip out and the mildly harrowing drive across the Bay Bridge.
+Solbar and Picobar at Solage. We are not usually "hotel restaurant" people — we try to seek out the smaller, lesser known spots — but the food here was excellent and I think Solbar has some kind of James Beard accolade. Picobar was actually my favorite meal of the trip – delicious, inventive tacos and you're sitting at a spectacular pool with cacti, rosemary, olive trees, palm trees around you and the dramatic pine-speckled mountains in the background. I could have stared at the landscape all day. It is uniquely stirring.
+Bistro Jeanty in Yountville. We broke our "stay close to Calistoga" rule by driving all the way to Yountville for dinner here. This place came strongly recommended by many. We thought it was solid — a true and seemingly authentic French bistro with offerings like escargots and forcemeat — but I will say the tables are close together and the portions are absurdly big. I know that's usually a "pro" but we hate food waste and neither of us were able to make our way through even a portion of our dinners. Food itself was solid; festive ambiance.
+Model Bakery in St. Helena. Worth the trip twice to St. Helena (one town over from Calistoga) — this bakery was founded in the early 1900s and is known nationally for its English muffins. I wish I'd brought more back on the plane! They are delicious (and one of Oprah's favorite things!). You can have them shipped, but they cost a fortune. Also great coffee and other pastries and sandwiches. Highly recommend if you're packing a picnic. We actually stopped here on the way to the airport so we'd have good sandwiches on the plane!
+We were supposed to go to Farmstead at Long Meadow Ranch our last night (this also came very strongly recommended by many sources, and all the vineyard staff seemed to light up enthusiastically when we mentioned its name) but at the last minute, decided to stay in Calistoga, walking distance from the hotel, and some of the staff at Picayune recommended local favorite Lovina. We thought the food and service was excellent. Ambiance felt — and I know this is oddly specific — like the restaurant in "As Good As It Gets"? You know, when Jack Nicholson takes Helen Hunt out and insults her before she sits down? It had that vibe — sort of older, more lived-in, but vibrant and full of locals.
+Of course, I put my name in on the waitlist at French Laundry for all three nights. It is so hard to get in there. I have friends with the elite credit card / loyalty situations who cannot use their concierges to get a table! I will say that I got two separate email notifications letting me know a table was available for a few of the nights for which we'd waitlisted (you can do this online), but of course they went in a nano-second, so I missed all of them.
+Other restaurants that came up in my research: Gott's Roadside, Giugni's, Mustard's Grill.
If you've been to the area, please add your recommendations and reviews and rebuttals in the comments section! Hoping to share more guides like this as we pick up travel this year!
Post-Scripts.
+Still digesting all your fantastic travel tips in response to this post. I'm thinking of compiling them (along with feedback received on Instagram and via email) into a more legible checklist we can all use. For example, thanks to you, I now have on my calendar: "Start taking Emergen-C" three days before my next trip!
+When do you feel most like yourself?
Shopping Break.
+Velvet wide-legs for $50. A no brainer for your holiday repertoire. Pricier, but I also like these flared velvet trousers from Frame.
+Just starting this book. Ann Patchett thinks it's going to be shortlisted for a major literary prize this year!
+Fun late fall blouse to add to your collection. It's perfect for those not-sure-how-dressy-this-is nights out with friends. Like a blouse with a plus mark after it. (Under $130.)
+Heading away for a "ski trip" (parenthesis because I don't ski — will enjoy apres or bunny slopes instead…it will be my children's first time skiing) for NYE and I'm already beginning to scout fun additions. Love this fair isle and these sheep-patterned (!) thermal joggers.
+If you're a proper skiier, you might like these cute fair isle base layers from Sweaty Betty — currently on steep discount — and, of course, anything Bogner (but $$). They somehow make even ski pants look sexy.
+Halle Berry wore a dress like this (more sizes here) some time in the 90s and it's such a major style reference for me. I'd pair with a pointed-toe pump and big earrings to dial down the sexiness a touch.
+Love this embossable heart key ring.
+A bunch of Magpies are intrigued by the quality of the Uniqlo L/S tees. Does anyone have any strong recs or pieces they are curious about? I am drawn to this ribbed turtleneck, but want to place a larger order for a few to test and report back on for the group. Let me know in the comments!
+Always into a pink statement top.
+If you live in a small space: can't rec underbed storage like these and these enough. Would not have survived Manhattan without!
+Get the Bottega vibe for less with this woven bag.
+Plush scalloped bath mats!
+My expecting mamas: here is how to look like a glowing goddess during the holiday season.
+Love this thick Gucci scarf paired with an otherwise neutral outfit.
+Obsessed with this Hermes-like leather clutch.
+I just added a holiday section to Le Shop! So many goodies there for my fellow anticipators!
+If you're not quite in the December headspace, you can also get all of my Thanksgiving goodies — recipes, playlists, tabletop ideas, run-of-show — here. Just pop your email in and I'll send you the whole kit. I ran through the past decade of Thanksgivings with some photos from the archives here.
If you want more Magpie, you can subscribe to my Magpie Email Digest for a weekly roundup of top essays, musings, conversations, and finds!